Yes, you heard me!
Daniel Reardon is an Australian research fellow who ended up in hospital in March (I know, very late, but you need to hear this!) after trying to make a device that stops you touching your face as often.
Unfortunately, whilst the poor chap was mindlessly placing magnets around his face, he placed them by his nostrils. The catch: these were strong Neodymium magnets. Anybody who has worked in a school lab will know the power of Neodymium!
So what did Daniel do to get rid of the magnets?
He used more magnets of course!
"After struggling for 20 minutes, I decided to Google the problem and found an article about an 11-year-old boy who had the same problem. The solution in that was more magnets. To put on the outside to offset the pull from the ones inside.
"Then, after using my last two magnets in a futile attempt to remove the magnets, and getting those stuck too, I knew I was in trouble."
Naturally, that didn't work, so he turned to metal pliers. Naturally, many metal tools are temporary magnets, which means they become magnetic in the presence of a permanent magnet. Like the Neodymium ones.
That ended greatly!
"The pliers kept getting attracted to my nose, and the force of my nose being pulled was also painful."
It all was resolved in the end, but you need to read his commentary!
Dr Reardon finally made a visit to the hospital to remove all the magnets and tools from his face.
"When they got the three out from the left nostril, the last one fell down my throat," he said. "That could have been a bit of a problem if I swallowed or breathed it in, but I was thankfully able to lean forward and cough it out …"
"My partner took me to the hospital that she works in because she wanted all her colleagues to laugh at me."
And his brilliant medical record of the issue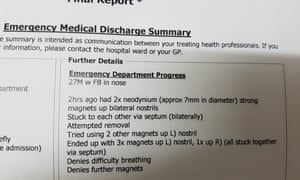 I lost it at "Denies further magnets!" This cheered me up so much, thanks Dr Reardon!
I'm just glad he nose not to put magnets on his face now.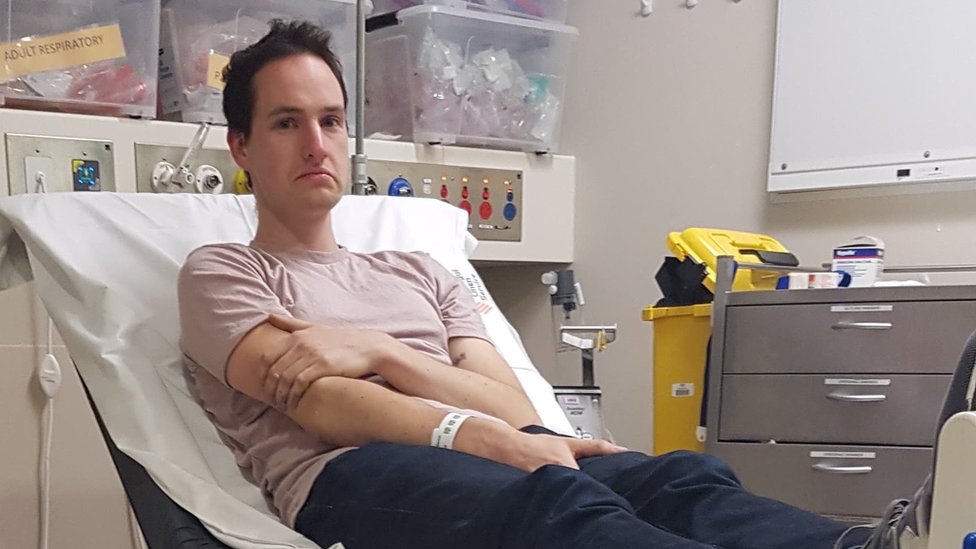 Find the original article here.